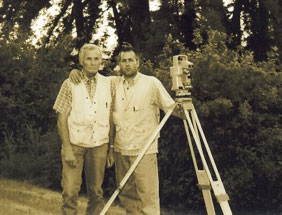 Bridgette Land Surveying was founded in 1977 by Clifford J. Bridgette, PLS 4134, retired. Clif owned and operated the firm as a (2-4) employee company between 1977 and 1992. In 1992, the firm was purchased by Michael J. Bridgette, PLS 7329, current owner (Clif's son).

Mike has maintained a staff of (1-4) employees from 1992 to the current day. A family business in Watsonville, California since 1977.

Our Region: We are licensed to perform land surveying throughout the State of California. We have recorded land surveys on properties from the foothills of the Sierras to properties on the beaches of the Pacific Ocean. The majority of our projects are located in and around the Monterey Bay and San Francisco Bay areas.